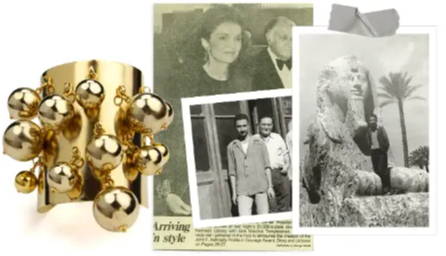 Ben-Amun was founded by Egyptian-born jewelry designer Isaac Manevitz. The name Ben-Amun was inspired by the designer's eldest son, Ben, and one of the former king's of Egypt, Tutankhamun. He has brought his love of sculpture to his collections by working with some of the finest and most interesting materials to create unique designs that are both modern and contemporary, yet timeless.
I design for a woman that wants to be noticed and that can subtly command a room. The type of woman that you always remember for her poise, her sophistication and for her intellect and wit.
Ben-Amun jewelry is consistently featured on the style-dictating pages of Vogue, Harper's BAZAAR, Vanity Fair, ELLE, GLAMOUR, W and PORTER magazine. Also, Ben-Amun designs have frequently been styled in editorials of CR Fashion Book, WWD and International Condé Nast and Hearst publications.
Our bold designs have decorated the varied wardrobes of First Lady Jacqueline Kennedy Onassis, Kate Moss, Naomi Campbell, Cate Blanchett, Anne Hathaway and Jane Fonda. Leading female musicians such as Madonna, Rihanna, Katy Perry and Christina Aguilera have sported Ben-Amun statements to music videos and various events. View more in As Seen On.
Craftsmanship
All jewelry is handcrafted by a team of skilled artisans in our New York City Garment District atelier. Our handcrafted pieces feature the highest quality of materials such as 24K gold, Majorca pearls, and Czech glass stones. Our masterful artisans work diligently to ensure each piece speaks to Isaac's appreciation of symmetry, as not only a measure of beauty, but also balance.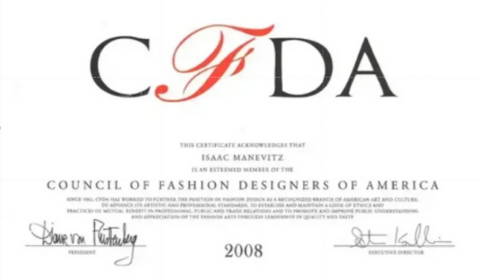 Member of CFDA
The Council of Fashion Designers of America, also known as CFDA, is a non-profit trade association founded by Eleanor Lambert in 1962.
The renowned organization awards and recognizes achievements in fashion.
CFDA organizes New York Fashion Week and provides resources and funding for aspiring American designers.
Designer Isaac Manevitz has been a member since the early 1980's and was awarded certificates as an esteemed member in 2008; signed by the then CFDA President, Diane von Furstenberg.